GCLS Writing Academy Guest Instructor - December 2017
At the request of the Golden Crown Literary Society (GCLS) Writing Academy Manager, Ann shared her presentation on the Ladder of Inference with this year's Writing Academy students. Originally created by an organizational psychologist to create collegiality within a staff, Ann uses the model as a writing tool to outline plot, create believable characters, and determine points for edit. The session was well-received, and the students were excited to have another tool in their tool bag.
GCLS Annual Conference - Chicago July 2017
Ann attended the Golden Crown Literary Society's (GCLS) Annual Conference in Chicago. The GCLS Conference is a wonderful opportunity to learn from other authors, and best of all, meet readers. She gave a presentation titled, "The Ladder of Inference: Challenging Our Assumptions." In addition, she read from her latest mystery, A Secret to Tell and participated in the author signing session. She also participated in the panel "Liar, Liar," where authors tell a story and the audience decides if it's a truth or a lie.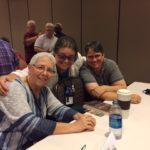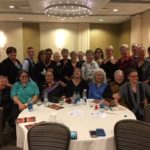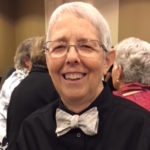 A Secret to Tell Makes AfterEllen Summer Reading List - June 2017
A Secret to Tell was honored to be chosen by AfterEllen as one of the mysteries to read during the 2017 summer.
Ann Chosen to Edit Conference Call - January 2017
Ann was asked by her publisher, Bella Books, to serve as the editor of Conference Call, an anthology of stories written by 28 authors from different publishing houses as well as independents. The authors' central focus was romance at a conference, any conference. Stories were steamy, humorous, poignant, or all of the above. Ann very much enjoyed collaborating with so many different writers. It was a wonderful learning experience for her and has resulted in her being asked to edit more novels for Bella. All profits from the sale of Conference Call benefited the GCLS.
GCLS Annual Conference - Washington, D.C. 2016
Ann attended the GCLS Annual Conference held this year in Washington, D.C. In addition to moderating a mystery panel, Ann served on the panel, "Tension, Chemistry, and Fiction," a romance panel, alongside Radclyffe and KG MacGregor. Ann also read from her romance, Pleasure of the Chase and participated in the Author Signing.