Ann Roberts is the award-winning author of seventeen mystery, romance, and general fiction novels. She has the distinction of being a Lambda finalist in Mystery and Romance. Her mystery thriller Point of Betrayal was a Lammy finalist and a Goldie winner. In 2014 she was awarded the Alice B. Medal for her body of work.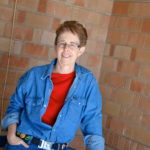 Ann recently retired after 28 years as a public school teacher, principal, and educational consultant. She looks forward to spending more time writing, traveling, and learning to play her dusty ukulele. She proudly serves on the Golden Crown Literary Society's Board of Directors as the Director of Organization.
In 2015 she legally married the woman she's considered her wife for the last 23 years, surrounded by friends and family who've always supported their relationship. She and her wife recently relocated to Eugene, Oregon, trading the dry desert for rain and tall green trees. Although she's still acclimating to the PNW, Ann's hopeful this life change will inspire more stories in the future.
Contact Ann. She loves to hear from readers.